Hello 2011!
due to
extreme
lack of time i havent been able to finish all my 2010 cos plans huhuhu!!
BUT! i will not have school from May to Sept (and also no work lol!) soooo i will have all that time to cos~~
i miss cosing so much *tear*
here's a list of who i want to cos for 2011

Spirited
Away - Haku

Gintama
- Takasugi, Kamui, Zura(yellow ninja? lol!),Kyubei
(2 years already still havent done her omg!!! even if i already have hair + cos)
, i actually wanna cos everyone haha!!
oh yeah Gintama second season on April 2011 YESSSSSSSSSSSSSSSSS!!!!!!!!!!!!!!!!!!!!!!!!!!!!!!! THANK YOU!!!

Bakuman
- Takagi

Vocaloid
- Len or Kaito (ver not yet decided)

Dolls
- Seiju~

Zone00
- Bishamon dammit! (he is taking too long to finishhh!!)
-not gunna do Dynasty Warriors for now, gunna wait for 7 hehe!!
-lately i've been watching so many animes!! but there's not really a character that i wanna cos! OTL so yeah gunna go cos old chars?? haha!
Any suggestions on what else to watch?!?! pls??
currently watching: One Piece, Beelzebub (watch this! it as a cute evil baby!), Bakuman, Starry Sky, Kuragehime (lol! starting to get boring tho...), Inazuma Eleven
Story time!
This Christmas went back to the mother land (Philippines)~~~!!! Oh joy~!! Cheap merchandise!!
And had a sort of on the spot One Piece Christmas Party! Had a few days to prepare but SO MUCH FUN!!!
so now i post pics of it coz im tired of typing haha!
here's us at dinner time! :9
me as Sanji(OTL so bad!) i actually had his blue outfit earlier in the day but changed to chef mode since i did cook the dinner~!! <3
from left to right: Coby (the only marine lol!), Luffy, Law and Going Merry's love child? haha!, Bepo, Chopper (

), Sanji, Zoro, Nami, Usopp (w/ awesome latex nose!!! but was quite disturbing to look at...)
here's the food i slaved on haha! drink made by Hei who also died squeezing oranges lol!
each food was supposed to represnt a character BUT i was too tired to finish orz (fail sanji haha!)
Chopper inspired shrimp ball! XD ( from his defense point! )
Sanji's sweet and sour meatball! lol! the meatballs we're also shaped like hearts but SADLY u cant see it in the pic!!!
Dessert! Going Merry Ice Cream Crepe! I was close to death by that time so that's why it looks like that hahaha!!
i had a better vision hahahaha!!!
Best pic hahahaha!! if you guys dont know who Law is, his fingers has D E A T H written on them! then Law cosplayer did this hahahha!! so appropriate! that's fried rice in front of the pic haha!
and to end the day we drank this One Piece Chanmery which is some kind of champagne for kids hahaha!!!
we had so much fun the 1st one piece party that we wanted to do it again before Hei and I went back to japan!
so we had another one but more casual one! more like One piece inspired party haha!!
we're gay and had this shirts made the day before hahaha!!! the numbers are our birthdays haha!!!
Luffy coser's sooo lucky!!! #1!!! born on the right day for this occation lol!!
written on back: Captain (luffy), Fire Fist (ace), Shipwright (franky), Medic (chopper), KungFu Bear (bepo) SO CUTE!!, Swordsman (zoro), Chef (sanji)
that day since Hei and I were leaving the next day we did drink real Alcohol (Soju) hahaha!! and bepo...drank like 2 tablespoons and went on a crazy drunk rampage which was the most amusing thing i have ever seen!!! hahahah!!! So yeah everyone was pretty much drunk!! haha!!
which lead to such pics haha!
then became this as we were close to midnight haha!!! zoro coser and me (sanji coser)'s glasses in real life lol!!
and for some REALLY weird
random
reason....
we had this shot.....i have no idea how it suddenly became a drama.................Orz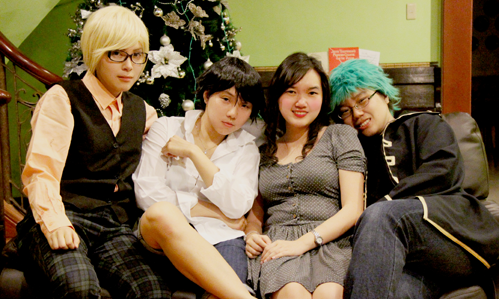 IT WAS EXTREMELY FUN THO!!! despite the ghettoness of it hahahahha!!!
and even if i cosed sanji here and despite my extreme love for one piece...i will not cos Sanji (or any one piece char) properly enough to have a shoot hahaha!!!
(maybe...lol!)
Hope everyone had a fun holiday too!!!